Firefighters tackling a fast-moving wildfire in southern California have said the blaze has jumped the main coastal highway and reached the Pacific Ocean, US media report.
The fire, which ripped through Ventura County north of Los Angeles, triggered evacuation orders for some 150,000 people and has damaged 150 buildings.
Authorities say some 12,000 structures remain threatened by the fire.
Strong winds are expected to further hinder efforts to contain the blaze.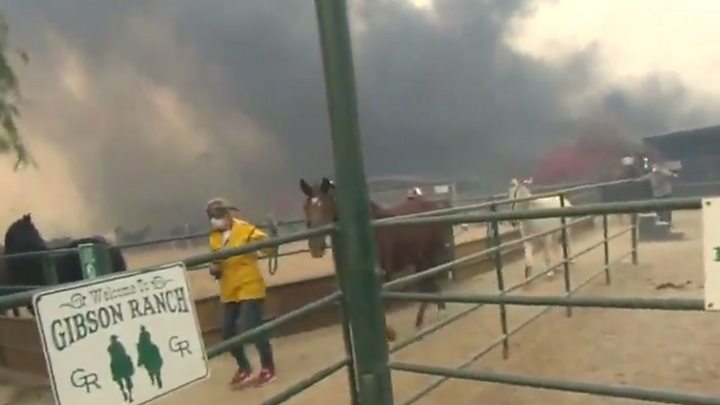 "We are still in the middle of an aggressive and active firefight on the ground," a spokesman for the Ventura fire department, Robert Welsbie, said late on Tuesday.
"If the winds pick up, we will face quite a challenge."
Fire officials said a quarter of a million homes were without power and they feared many more buildings would be destroyed.
It was revealed on Wednesday that the fire had crossed Highway 101, reaching the Solimar Beach area.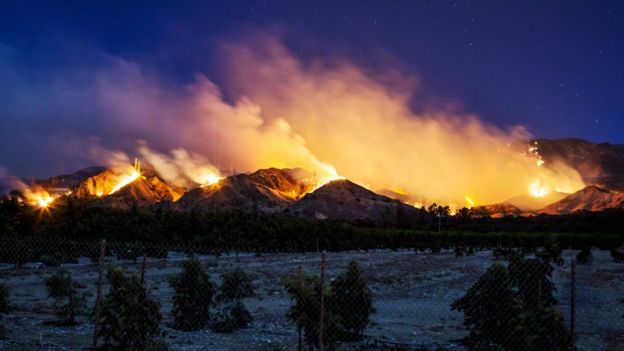 The road remains open but local officials have told motorists to take care.
More than 1,000 firefighters have been battling the fires in the cities of Ventura and Santa Paula, some 70 miles (115km) north of Los Angeles.
Residents of Santa Paula and Ventura received mandatory evacuation notices on their phones and from emergency workers going house to house.
The blaze, which has devastated more than 55,000 acres (22,000 ha), continues to be fanned by ferocious Santa Ana winds – which blow in from the California desert – and low humidity.
Winds are forecast reach up to 70mph (115km/h) on Wednesday and remain strong throughout the week.
One eyewitness in Ventura, Robin Andersen, said an area south of Highway 101 "looked like Armageddon", the LA Times reports.
"I sat facing the fires, and it was like watching Rome burn," Mr Andersen said.
Others took to social media to share images and footage of the fire as it spread across roads and motorways, warning drivers to avoid the area.
Santa Paula has 30,000 residents, while Ventura's population is about 110,000. Both are in Ventura County.
The Ventura County fire is believed to have broken out close to Thomas Aquinas College in Santa Paula at some time after 18:00 on Monday (02:00 GMT Tuesday).
The authorities have warned of widespread smoke and advised people with health conditions, the elderly and children to stay indoors in affected areas.
A separate fire broke out early on Tuesday closer to Los Angeles, in Sylmar.
California has been hit hard by wildfires in recent months. At least 40 people were killed when fires ripped through parts of northern California's wine region in October. Some 10,000 structures were destroyed.